LBFA Secret Santa (Wenceslassieing Commences)
01-15-2012, 04:45 PM
(This post was last modified: 01-15-2012 04:46 PM by GL 2814.4.)
GL 2814.4
The Grim Lantern


Posts: 313
Joined: Aug 2011
Reputation: 4
RE: LBFA Secret Santa (Wenceslassieing Commences)
(01-04-2012 02:41 AM)

Name Wrote: Just got my presents, first volume of Ex Machina(already read from the library, but I liked it and it's been a while), first 2 volumes of Ultimate Spidey(should make my spidey-head brothers very happy), and a note.


Having problems w/ picture getting so:
Front: Batman pic from BTAS of him looking stern w/caption:"Judgemental Batman knows you haven't been the perfect person this year. Here's a present anyway."
Back: doodle of tree in corner of note, w/caption: "Here is a tree, in case you don't have trees in Indiana.(we do.) Poor bastard.(Hey! It's a nice town.)

Happy Holidays!
From your secret Santa at LBFA!!

Hey there! Hope you're staying warm this time of the year(I am)! I'm assuming it snows in Indiana(not much of it this year, at least not as much as last year), but I honestly have no fucking clue(Though you got it right on the nose). Maybe it gets hot there, I don't know(Colder than Bobby Drake's balls). Anyway, enjoy the (scribbled out) gift! I totally did not just almost spoil the surprise for you(I actually didn't notice this side of the note until I had examined the presents, the Batman caption worked so well as a Christmas message), I don't know what you're talking about. If you happen to already have >insertgifthere<, just pass >gift< along to someone worthy of >gift<(as since we took an expensive plane trip, my close family've postponed gift giving to around Febuary, this came at just the right time for that.). Happy Holidays from Malika, aka GL 2814.4!(And belatedly back to you.)
Ah, sorry you'd already read them already! But I'm glad they can be regifted into good homes.
---
THANK YOU LUKE! Of course I love him; he is Batman AND a Lantern.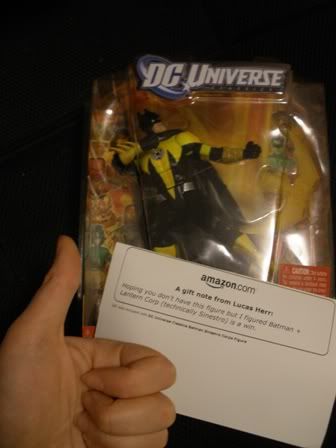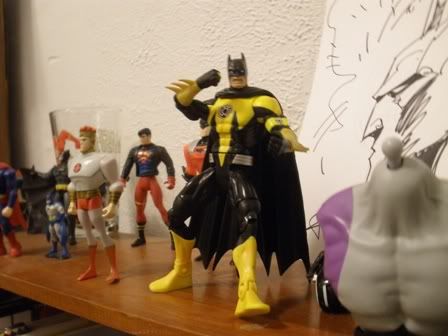 (I swear I was/am more excited than shown in the above picture, but it was cold and windy and my house has no insulation and a huge branch from the tree in front of the house had just fallen, luckily missing my room... LONG STORY SHORT,
thank you a lot
.)
I need to do something with that torso so it isn't so... torso-y. Any ideas?
User(s) browsing this thread: 1 Guest(s)